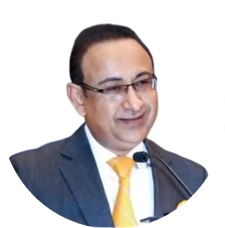 Mr. Aftab Hasan
Secretary General, Insurance Business Group (IBG)
Chairman, Risk Exchange (DIFC)& CEO, Arya Insurance Brokerage& Chairman, A2R Solutions
Topic introduction
---
Personal profile
---
AFTAB Hasan, is an eminent technocrat and the first-generation entrepreneur fueling multi-million-dollar growth, international business expansion, and new product launches within a start-up, early stage, high-growth environment. He has made remarkable contributions to the Energy, Offshore, Marine, Oil & Gas, IT, and Insurance & Reinsurance Sector with his passionate and pioneering spirit with approximately 30 Years of professional experience serving and leading top management team.

He is an elected representative committee member and Secretary-General on the Board of Insurance Business Group (IBG) under the auspices of the Dubai Chamber of Commerce & Industry, an appointed member of the United Nations Office for Disaster Risk Reduction (UNDRR) Private Sector Alliance for Disaster Resilient Societies (ARISE). He is the Advisory Board Director of All India Association of Industries (AIAI), a Member of the Indian Council of Foreign Trade, a Member of the Emirates Insurance Association, and the Gulf Insurance Federation.

He has contributed to the development of Dubai with his association & engagement as one of the steering committee members along with a few other think tanks for the launch of the Dubai Strategy where the blueprint of today's Dubai was being written in the 1990s. He received wide appreciation during this period for his periodic editorial contribution & views on the global economy and trade in Dubai Trade Magazine which was a monthly periodical published by the Economic Department of Dubai. He was obliged to be invited to the formation of Dubai Quality Group (DQG) as an examiner to assess & evaluate member companies participating in Dubai Quality Appreciation Award.

He is conferred with many accolades & awards in recognition of his outstanding contribution to enhancing insurance industry standards. He has been at the forefront of the insurance industry embracing & promoting Insuretech solutions among peers while offering value-added service, industry leadership, excellent customer service, and boosting the image of the broking profession. He is a well-recognized name in the Middle East insurance sector and is often quoted in the media, providing opinion on global emerging markets. He was conferred as "Insurance Personality of the Year" at the 4th Edition of UAE India Economic Forum by Bloomberg Middle East & Economic Times. He has been frequently speaking at conferences, and summits; such as Global Economic Summit, Insurance Conference, ShipTech, InsureTech, Blockchain Summit, Cyber Security Conference, Seamless Middle East Conference, etc.